Who are we?
The Flag of Kappa Kappa Psi
Kappa Kappa Psi is a student organization that operates as a service and leadership recognition society whose chief aim is to assist the Director of Bands in developing the leadership and enthusiasm that is required for the college or university band program. Partnered with our sister sorority, Tau Beta Sigma, our goals are to provide the band not only with organized and concentrated service activities, but to give our membership valid and wholesome experiences in organization, leadership and social contacts. The honorary nature of membership is based on our premise that "it is an honor to be selected to serve" this band and the cause of band music in the nation's colleges and universities.
Represented at the local, state, and national levels and operating out of over one hundred and sixty colleges and universities around the United States, the fraternity has involved over fifty thousand young musicians in its almost ninety year existence and continues to promote the best in the American band tradition. Noted fraternal alumni include John Philip Sousa, Karl King, Ray Charles, Lionel Richie, Neil Armstrong, Bill Clinton, and John Denver.
Our History as a Fraternity and a Chapter: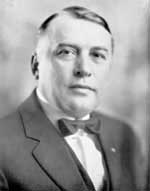 Bohumil Makovsky
In the years following the First World War, a movement developed across college campuses in the United States, searching for some motivating force that would create greater interest in band music, a sense of goodwill among bands and their members, and promote the value of student leadership.
The result was the creation of Kappa Kappa Psi, National Honorary Band Fraternity on November 27, 1919 at the Oklahoma Agricultural and Mechanical (A&M) College, later Oklahoma State University, in Stillwater, Oklahoma. The ten original founding fathers of the fraternity were influenced by their own Director of Bands, Bohumil Mackovsky, a European immigrant, musician, and band leader who would become our fraternity's "guiding spirit".
The chapter of Lambda Delta was formally installed on July 11, 2003 by thirty-nine dedicated college musicians who wanted to bring the values and dreams of this original movement to the Shippensburg University campus.
Begun in December of 2002, as the largest colony in the history of Kappa Kappa Psi, the Shippensburg University colony advanced under the leadership of our big brother chapter of Omicron at West Virginia University.
The Shippensburg University Band Program: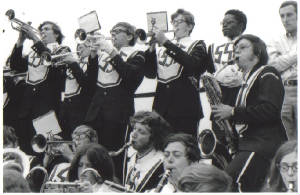 Shippensburg University Marching Band cir. 1970s
Formed in 1924 by professor D. O. Slyter as the Cumberland Valley Normal School Band, the band's growth has paralleled that of the school itself. Because Shippensburg was a teacher's college, the band was started initially to give students the opportunity to learn band-conducting skills. One thing that has run continuous throughout all of these seventy-eight years, is that the pride of the organization has never diminished. As Shippensburg University continues into the Twenty-First century, the band program still is growing and expanding, making faculty and students alike members of an anxious group.
Shippensburg University boasts a marching band, concert and jazz bands, and pep band as well as a brass and woodwind ensemble. Members of these organizations bring various experiences and playing abilities from all across the state of Pennsylvania and surrounding states such as Maryland, Delaware, New Jersey and New York. Many members have had previous experience with similar organizations in high school, and still many people come ready and willing to learn a new instrument every year. Shippensburg bands have traveled near and far so people should always be on the lookout for any of these groups.